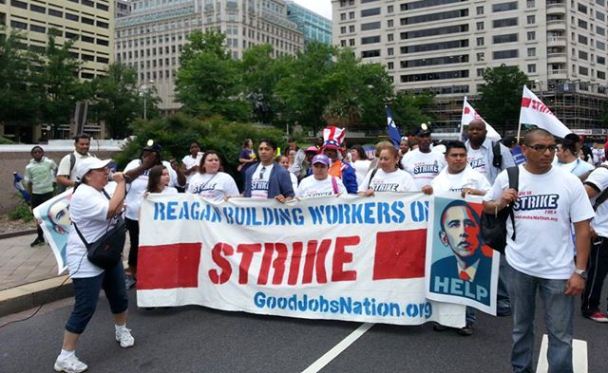 Food court workers at the Ronald Reagan Building and International Trade Center in Washington, DC are some of the hundreds of federally-contracted employees to speak out against unjust wages. (Credit: AFL-CIO Washington DC Metro Council)
Hundreds of federally-contracted low-wage workers, mobilized by the new labor coalition Good Jobs Nation, are joining together in a call for decent living wages and speaking out against alleged pay theft by federal contractors.
The movement is calling on President Obama to sign an executive order or legislation requiring higher wages for employees of federal contractors. A report published by Demos found that the federal government subsidizes over half a million jobs that pay less than $12 per hour. When spending on Medicare, infrastructure and other costs are included, the government subsidizes nearly two million such jobs – more than Wal-Mart and McDonalds combined.
"The federal government is by far the largest employer of poverty-wage jobs in the country, with many of its contracted workers struggling to survive on minimum wage, or even less," said Good Jobs Nation. "Now, to make matters worse, some of these contractors are stealing our wages."
Food workers at the Ronald Reagan Building and International Trade Center in Washington, DC, are the most recent to protest the unjust pay. They claim a total of eight franchises at the federal building have paid employees less than the minimum wage and ignored overtime pay laws.
Joanne Kenon, an employee at the National Zoo in Washington, DC, says she is struggling to make ends meet on her $8.50 an hour wage.
"I'm 60 years old and I can't afford to live on my own, let alone retire," Kenon wrote in a letter to Obama published on GoodJobsNation.org. "Mr. President, we need you to make sure the companies that you hire to do work for the American people do the right thing by us."
In response, the D.C. Council is set to vote on a resolution calling for livable wages in federal contract jobs. Seventeen members of the Congressional Progressive Caucus wrote a letter demanding action, pointing out that there are "ample precedents for using federal contracting power to promote the general welfare."
"The federal government cannot avoid responsibility when wages significantly below a living wage are paid to workers on federal premises or with federal funds," the members wrote. "A great variety of vendors and contractors that pay their employees low wages provide many kinds of goods and services to the federal government. However, the nation's capital, home of the nation's monumental tourist sites and buildings, is the visible epicenter of federal collusion with vendors and contractors that pay low wages to their employees at federal sites."
The strikers are asking supporters to click here to tell President Obama to use his executive powers to require all federal contractors pay a living wage and respect workers' rights.