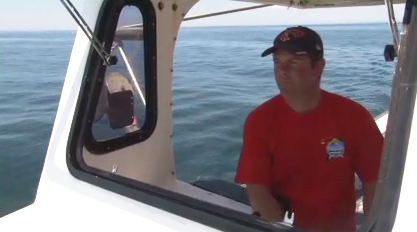 IAM Maine Lobstering Union member Chris Radley sets out along the Maine coastline to catch lobsters. He and his fellow union brothers and sisters are working together to make sure the estimated 5,000 lobsterers statewide have a voice in the industry and state legislature.
Two new videos on the Machinists News Network highlight the hard work and community service of our brothers and sisters of IAM District Lodge 4 in Maine.
"IAM Maine Lobstering Union Protects the Industry" hitches a ride on a lobster boat alongside members of the IAM Maine Lobstering Union which scored two legislative victories this past spring: the defeat of a bill that promoted the practice of "dragging" and allowing the sale of incidentally-caught lobsters, and the passage of another bill that allows lobsterers serving in the armed forces to maintain their licenses once they return from duty.
"A Tribute to Service Fishing Event" continues along the New England state's coastline as IAM District 4 members volunteer their boats and time for military veterans and active duty service members to enjoy a free day of catch and release fishing on Great Pond in Belgrade, Maine.