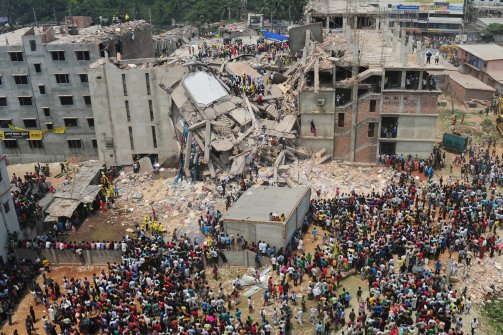 On April 24, 2013, an eight-story garment factory in Dhaka, Bangladesh collapsed, killing 1,127 workers and injuring more than 2,500.
Labor and workers' rights groups are protesting the most recent attempt by Wal-Mart, Gap and 15 other American retailers to skirt meaningful safety reforms in the Bangladeshi garment industry. The mega-retailers' plan is nonbinding, not transparent and didn't consult factory workers or labor groups.
A press conference in Washington, DC unveiling the so-called "Bangladesh Worker Safety Initiative" was met with protests and signs reading, "Gap and Wal-Mart: Bangladeshi Workers Reject Your Fake Safety Plan."
Since 2005, more than 1,800 workers have died from preventable factory fires and building collapses in Bangladesh. Many of them were working at factories that made clothes for American merchants. Click here to watch a video underscoring the "Fatal Cost of Fashion."
"It's business as usual for American retailers like Gap and Wal-Mart," said IAM International President Tom Buffenbarger, who is Vice President of the IndustriALL global union. "The announcement that they have developed yet another toothless, voluntary plan to stop the horrific deaths of Bangladesh workers in unsafe factories is doomed for failure."
"The so-called Global Alliance for Bangladesh Worker Safety, announced by Wal-Mart, Gap and the Bipartisan Policy Center, was developed without consultation with workers or their representatives and is yet another 'voluntary' scheme with no meaningful enforcement mechanisms," said AFL-CIO President Richard Trumka. "Companies that sign onto the alliance but fail to meet a commitment face no adverse consequences beyond expulsion from the scheme. Instead, workers will continue to pay."
The IAM and many labor groups around the world agree that the only way to stop the tragedies is to enforce the agreement being implemented by more than 80 retailers and global unions, including IndustriALL. The five-year binding "Accord on Fire and Building Safety in Bangladesh" sets forth comprehensive inspections, repairs of factories, and training and involvement of workers.
"This historic, legally-binding Accord will effect tangible change on the ground and help make the Bangladeshi garment industry safe and sustainable," said IndustriALL General Secretary Jyrki Raina. "Voluntary initiatives have proved insufficient, as 1,800 Bangladeshi garment workers have died in factory fires and building collapses during the past seven years. A profound change is possible only with a strong coalition between trade unions, international brands and retailers, Bangladeshi authorities and employers, and with worker involvement in the workplace with guaranteed freedom of association."
Click here to sign a petition demanding Wal-Mart, Gap and other retailers abandon their ineffective PR-driven safety plan and sign on to make meaningful change in Bangladeshi garment factories.