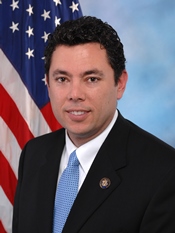 U.S. Rep. Jason Chaffetz (R-UT)
The GOP Chairman of the House Oversight and Government Reform Committee is asking more than two dozen federal agencies for the names of individual employees allowed to do union-related work on federal time.
U.S. Rep. Jason Chaffetz (R-UT) alleges no wrongdoing, but is probing the use of "official time," which allows some federal employees, including National Federation of Federal Employees (NFFE-IAM) members, to work part or full time on representing and servicing union-represented employees while being paid by the government. Chaffetz's letters demand information on individual workers, including name, title, salary and duty station.
There are serious time constraints on federal labor representatives, who are required to represent everyone in a bargaining unit, even those who don't pay union dues.
"I think it's really a witch hunt on federal employees," NFFE-IAM National President William Dougan told The Washington Post . "What on God's Earth do they need the names for, unless… they want to seek them out individually?"
The letters come as the committee is considering legislation questioning the long-held practice of official time. The deceptively named Federal Employee Rights Act (H.R. 4461 ) — a bill that does absolutely nothing to protect the rights of federal employees — is an attack on basic constitutional rights of federal workers.
"The bill places an unreasonable burden on an employee's right to join a union, guts democratically-decided union elections and creates excessive levels of bureaucratic red tape for federal employees to exercise their first amendment freedom to assembly," said Dougan. "This bill is aimed at destroying federal employee unions, nothing more."
Chaffetz and Rep. Gary Palmer (R-AL) also want to tack on blame to federal employee unions for last summer's computer hack of the Office of Personnel Management. They claim the American Federation of Government Employees (AFGE) "made it harder" to protect files after filing a grievance against Immigration and Customs Enforcement (ICE) for a new policy prohibiting access to personal email from agency computers. ICE lost the case before an arbitrator and then again on appeal to the Federal Labor Relations Authority.