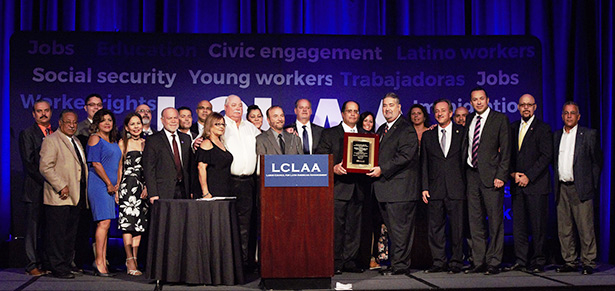 International President Bob Martinez, with IAM members attending the 2016 LCLAA National Membership Convention in Orlando, was this year's recipient of the Montemayor-Barraza Distinguished Service Award.
IAM International President Bob Martinez received the Labor Council for Latin American Advancement's (LCLAA) Montemayor-Barraza Distinguished Service Award at its conference-closing gala in Orlando, FL this weekend.
Each year LCLAA honors a labor activist who exemplifies the national organization's mission to advance the cause of Latino workers and their families through organizing and political action. Martinez, the IAM's first Latino international president, was recognized for his long-time role as a leader and activist in the Latino community, the IAM and LCLAA.
"It is a great honor to stand here in front of this important group of Latino leaders," said Martinez. "As president of the IAM, which has thousands of Latino members, I want you to know that we understand the need to educate, organize and mobilize our fellow Latinos."
The award was given at the close of LCLAA's 21st National Membership Convention. The convention included a get-out-the-vote drive where activists canvassed door to door.
LCLAA was founded in 1972 as a grassroots organization driven and directed by Latino labor leaders who understand the importance of unionization in helping workers secure rights and protections on the job, and empowering them to become voices for justice and change in their communities.