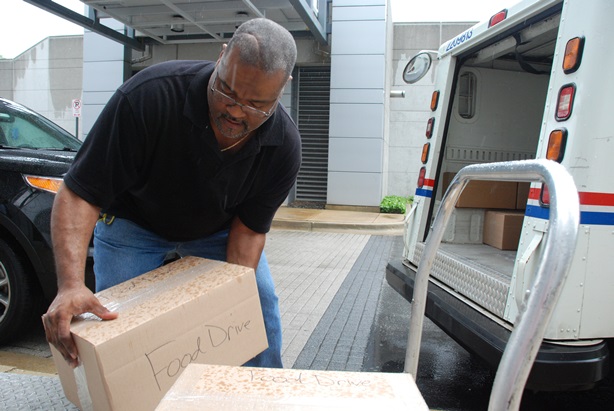 Darryl Holloway, the assistant building facilitator at IAM Headquarters, loads of boxes of food to be donated as part of the National Association of Letters Carriers' Stamp Out Hunger Food Drive.
The IAM Community Services Department at Headquarters, along with thousands of IAM members across the country, worked in conjunction with the National Association of Letter Carriers (NALC) by taking part in the 24th annual Stamp Out Hunger Food Drive .
The drive is an annual nationwide effort to help feed the hungry in communities across the country.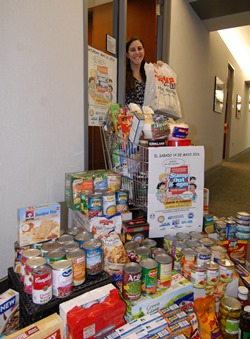 IAM Retirees, Community and Membership Services Department Administrative Secretary Anna Georgallas organized the Letter Carriers' Food Drive at IAM Headquarters.
The IAM Community Services Department kicked off the event at Headquarters on April 25. Food donations were collected and boxed up in advance of the pickup on May 13. A continuous supply of food came in daily for weeks as IAM Sisters and Brothers generously donated and stockpiled 22 boxes of non-perishable items.
All food donations were picked up by the U.S. Postal Service and taken to their local distribution center where they were routed and distributed to local community food banks, food pantries and shelters.
"Thanks to all of those here at Headquarters and around the country for continuing in the IAM traditional spirit of selfless generosity," said IAM General Vice President Diane Babineaux.
"I have to thank and commend our department Administrative Secretary, Anna Georgallas, for her dedication and coordinating another most worthy event and making it a great success," said IAM Retiree and Community Services Director Edward Manhart. "We look forward to doing our part again next year to 'stamp out hunger.'"