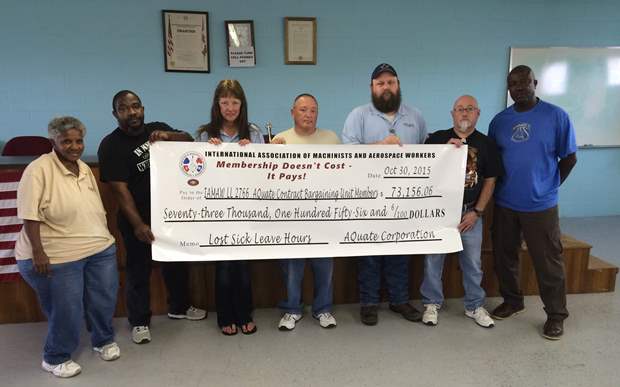 After years of disputes, IAM District 75 and Huntsville, AL Local 2766 negotiated with AQuate Corporation to reinstate more than $73,000 of sick leave hours to its employees. Pictured from left: Local 2766 member Patricia Hereford, Trustee George Alexander, Steward Sandra Lack, Steward Troy Bramlett, Chief Steward Brian Pettipiece, Steward Chad Abercrombie and Financial Secretary Thomas White.
After more than three years of dealing with two service contractors, 50 IAM-represented custodial employees of AQuate Corporation at the Redstone Arsenal Army post near Huntsville, AL have won back more than $73,000 of accrued sick leave.
When AQuate was awarded the custodial service contract for NASA's Marshall Space Flight Center at the arsenal in 2013, an agreement was put in place to honor the previous employer's collective bargaining agreement. The dispute began when an IAM member realized all of her accrued sick leave hours had vanished.
IAM District 75 representatives confirmed that all 50 workers had lost their negotiated sick leave hours when the new employer took over. AQuate claimed the hours were the responsibility of the previous contractor, Gana-A'Yoo. Gana-A'Yoo claimed that the responsibility was AQuate's. The IAM attempted to resolve the matter without success for the next two years.
The District 75 team started over and reviewed Freedom of Information Act submissions to the federal government and NASA, and the extensive files and notes compiled. They worked for a year meeting with the two companies, the arsenal, NASA and other government agencies and asked for assistance from the IAM Legal and Strategic Resources departments. Calculating back from 2013, the union was able to establish what each employee was due and approached AQuate again with the information.
AQuate decided to settle the dispute and agreed to pay over $10,000 in back sick leave pay and reapply over 5,000 sick leave hours to employees' accounts. The total value is over $73,000 for the 50 workers.
"This is quite a story," said Southern Territory GVP Mark Blondin. "This shows the tenacity of our business representatives in the Southern Territory, and how they found the way to get the job done. It's a great lesson to show how important a union is to workers."
"I'd like to acknowledge AQuate Corporation for doing right by their employees and working together with the union," said IAM District Business Representative Tony Bishop. "A special thank you IAM Strategic Resources economist Loren Almeroth and IAM Legal counsel Bill Haller. I'd also like to thank AQuate CEO Terry Smith, Director of Human Resources Lori Jarrett and their team of accountants."