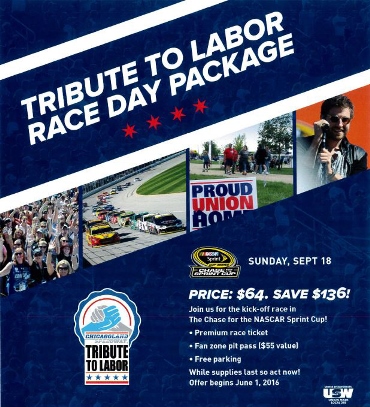 The Machinist Union has reserved grouped seating for the 2016 "Tribute to Labor" race day at the Chicagoland Speedway on September 18, 2016 in Joliet, IL.
To purchase tickets within the IAM block, call (815) 722-5500 beginning June 1, 2016 at 9:00 am CST. Let them know you are an IAM member, then give them the code "CLSUNION16" and your local lodge number. PLEASE NOTE: IAM group tickets cannot by purchased online.
Supplies are limited — so act fast! Union ticket sales end June 30.
Once you have ordered tickets, please contact your District/Local coordinator as listed here and provide them your T-shirt size(s). One T-shirt per ticket purchased.
Join the IAM and dozens of other labor unions in participating in this one-day event, held each year in honor of labor unions as part of the kick-off race in the Chase for the NASCAR Sprint Cup Series.
Like the city of its namesake, the Chicagoland Speedway was built by the hands of union members. The $130 million facility is 100 percent union made — that's more union labor than nearly any other track in America.
IAM members interested in attending will receive a premium race ticket for the discounted price of $64 (a savings of $136). The labor package includes a free fan zone pit pass (valued at $55) and free parking. Fans will also get to enjoy a live concert — performer to be announced.
Individual Locals that sell the most tickets will receive special recognition on the pre-race stage. IAM Automobile Mechanics' Local 701 of Carol Stream, IL won second place last year.
"The Chicagoland Speedway is one of the most thrilling racetracks on the entire NASCAR circuit," said IAM Midwest Territory General Vice President Philip J. Gruber. "We're proud to, once again, be a part of this extraordinary event in recognition of labor's contributions to the sport. And especially excited to be able to share in this event with our membership. IAM members turned out in record number last year with more than 344 participants — the most of any other labor union. This year we hope to exceed that number."
An estimated 70,000 fans are expected to attend this year's race, which will be telecast to millions via a national broadcast on the NBC Sports Network, as well as internationally.
Don't forget to bring the kids! This year's race will be sponsored by Nickelodeon and will feature unprecedented family-friendly activities and entertainment, including a Teenage Mutant Ninja Turtles 400.
For more information on the 2016 "Tribute to Labor" race day at the Chicagoland Speedway in Joliet, IL on September 18, 2016, click here . Questions? Contact your designated District/Local coordinator listed here .