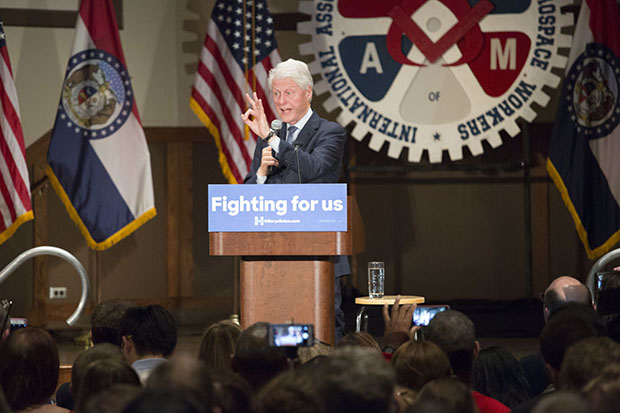 Former President Bill Clinton stopped by IAM District 9 in Bridgeton, MO to stump for wife and IAM-endorsed presidential candidate Hillary Clinton ahead of the March 15 Missouri primary.
Manufacturing is the key to rebuilding the economy. Just ask the Machinists, said former president Bill Clinton during an appearance at IAM District 9 in Bridgeton, MO.
See photos from Bill Clinton's visit .
Clinton's visit to District 9 comes just one week ahead of Missouri's March 15 primary as his wife and IAM-endorsed presidential candidate Hillary Clinton work to garner more votes in the Show Me State.
"We're finally at a point where we can all rise together. We have to elect a president that will allow us to rise together," said Clinton to a roaring round of cheers and applause from the several hundred Missourians in attendance. "In order to do that, we have to have more jobs and higher wages.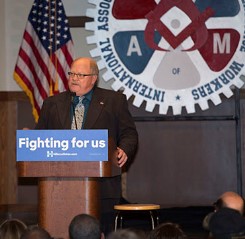 IAM District 9 Directing Business Representative Mark Conner welcomes are roaring crowd of several hundred attendees to the IAM District 9 hall in Bridgeton, MO as they await the appearance of former president Bill Clinton.
"So how are we going to get these jobs? First of all, we need a major, major investment in modernizing the infrastructure in America… [and] we can bring even more manufacturing jobs back. Why? Ask the Machinists. They'll tell you that manufacturing is the most productive sector of any economy. Since we are the biggest market in the world, why don't we save the transportation costs and make more things here? We can do this."
READ: Why Hillary Clinton is the Best Choice for U.S. Manufacturing Workers
President Clinton laid out Hillary's plans for investing in the middle class and stopping companies that practice "corporate inversion" — a strategy where U.S. manufacturers re-incorporate their company overseas in order to pay lesser taxes in the U.S.
"She thinks if you do that, you ought to pay an exit tax," said Bill Clinton. "If you take tax benefits from the government and then as soon as it runs out you run overseas, you ought to have to pay back the last five years of benefits. And she thinks we should then use that money to pay people to bring jobs back to America and make things here again."
President Clinton applauded current president Barack Obama for the work he's done amidst unprecedented partisanship, but said there's more work to be done — and Hillary is the right candidate for the job.
"That beautiful picture of the future that the president painted… millions of Americans can't look at that picture and find themselves or their families in it to save their lives," said Clinton. "Hillary is running for president so that every single person in this country can find themselves in that picture for the future. Job number one is to get us back to shared prosperity."
"I know we're all excited about electing another Clinton into the White House this November," said IAM District 9 Directing Business Representative Mark Conner to continuous applause as he welcomed the crowd to the Machinists' District 9 hall. "But there's one thing you have to keep in mind. We all need to get together — get your family, your friends, your neighbors — get out to the polls and the Missouri primary on March 15th and vote for Hillary Clinton."
"It was an honor to host former president Bill Clinton at our Machinist home in Bridgeton as he makes his way across key battleground states in an effort to get Hillary elected to the White House," said IAM Midwest Territory General Vice President Philip J. Gruber. "In Hillary's plan, the terms economic growth, U.S. manufacturing and the labor movement are synonymous. That is a strategy we know works — touted by a candidate the Machinists proudly stand behind."
The IAM was the first major industrial trade union to endorse Hillary Clinton in August 2015. More than 20 other unions have since followed suit.