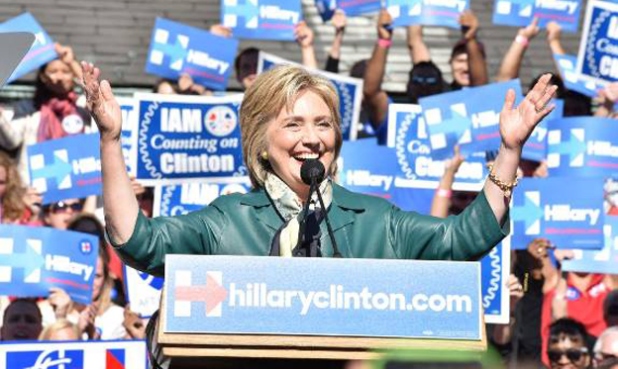 Hillary Clinton, pictured with IAM supporters at a rally in Alexandria, VA, won a hard-fought victory in the Nevada caucuses.
IAM and other union members helped propel Democratic presidential candidate Hillary Clinton to a critical victory in Nevada's "First in the West" caucuses. Clinton, who garnered 53 percent of caucus votes, was bolstered by the strong support of women, African Americans and union households, according to exit polls .
The IAM is one of more than 20 unions to have endorsed Clinton, the former secretary of state and U.S. senator from New York.
"Hillary's win in Nevada was due in large part to union households," said IAM Western Territory General Vice President Gary Allen. "This proves the labor movement still has the collective power to make a difference. Remember, we have the power! The key is to hold all politicians accountable to the ideal of supporting working families. I would like to offer a sincere thank you to all the Fighting Machinists and the rest of labor who put boots on the ground to make this happen."
Clinton will be looking to back up wins in the Nevada and Iowa caucuses with a victory in the South Carolina primary on February 27.
"We hear you, we see you, we're incredibly grateful to you because we're in this together," Clinton said of her supporters during her victory speech. "We look at our country and see so much that isn't working the way it should … Americans are right to be angry, but we're also hungry for real solutions."