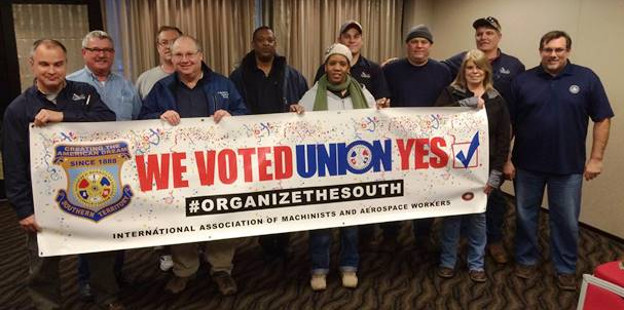 Holding the banner from left: Pat Cleveland, Brian Bramblett, Kimberly Burse and Jeanette Valdes. Back Row: District 75 Organizer Mike Cooke, Michael Whitsitt, Victor Williams, Tommy C. Beard, Tommy J. Beard, Robert Shepherd and Special Representative Tony Wirth.
Twenty-one workers at Fort McClellan, near Anniston, AL recently joined the IAM. The prime contractor, Aktarius LLC, and three sub-contractors, Accent Controls, Dawson and VT Griffin, employ the new members.
"This unit promises to grow in numbers in the next few years," said Southern Territory Special Representative Tony Wirth.
The Department of Homeland Security (DHS) and the Federal Emergency Management Agency (FEMA) operate a training center at Ft. McClellan, which is a unique facility that trains with both biological and chemical agents.
"The IAM is the leading union at our military and governmental installations," said Southern Territory General Vice President Mark Blondin. "We have professional representation and partner with the employers to ensure that the customer, which is the governmental agency, and ultimately the taxpayers and citizens of our great nation, get the most skilled and expert service possible from our members. Besides providing rights, pay and benefits for our members, our contracts ensure attention to safety and training to provide the highest level of service possible."
Wirth and District 75 Organizer Mike Cooke led the organizing campaign. The new members will join District 75 and Local Lodge 291 in Anniston, AL.